Dr. Anthony Fauci Was Elected 2020 Kcancer Hero.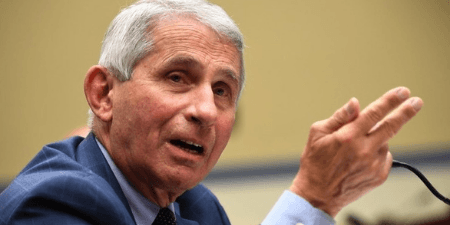 2020 became the coronavirus or COVID-19 pandemic year in the history and we all will remember this for a long time or life time. In the course of battling the deadly disease, there were heroes everywhere, doctors, nurses, emergency workers, and all of our frontliner facing the viruses. Dr. Anthony Fauci was one of them and was elected 2020 Kcancer Hero.
As a physician with National Institutes of Health, Dr. Fauci has served American public health in various capacities for more than 50 years. Dr. Fauci was appointed director of the National Institute of Allergy and Infectious Diseases by President Ronald Reagan in 1984 and has been holding this position for 36 years.
Since January 2020, he has been one of the lead members of the Trump administration's White House Coronavirus Task Force and actively participates in the decision making regarding COVID-19 pandemic in the US.
Dr. Fauci is one of the world's leading experts on infectious diseases and has been one of the most trusted medical figures on COVID-19 in the US. His words and actions have been parts of our war against the coronaviruses.
We have been witnessing a lot of stories while Dr. Fauci advises President Trump on the coronaviruses. It was apparent that there were many disagreements between them, such as masking and coronavirus is going to disappear miraculously.
Without any evidence, Trump's camp thinks that Dr. Fauci might be a democrat. Trump seemed to agree, but even in this context, Trump think that Fauci happens to be a good person.
Here are some timelines related to Dr. Fauci's coronavirus activities, which is the major history of war against COVID-19 in US:
January 20, 2020: the first case of COVID-19 was found in Seattle, Washington state.
January 29, 2020: coronavirus task force was established. Dr. Fauci was appointed to the force.
January 31, 2020: travel restriction, including shut down the air travel from China, was announced. Dr. Fauci gave support of this.
February 3, 2020: Fauci again supported the travel restrictions, which was part of good public health measures.
February 10, 2020: Trump claimed that the coronavirus would be gone by April when the weather gets warmer.
February 16, 2020: Dr. Fauci indicated that there was no scientific evidence to show that the viruses were going to disappear with the warm weather.
February 28, 2020: Trump called the Democrats politicizing of COVID-19 their "new hoax"
February 29, 2020: It was assumed that it was hard to stand up against your boss. Dr. Fauci said there was no need to change anything that you were doing on a day-by-day basis and no need to change lifestyle yet.
I should point out that as an independent scientist I predicted that the coronavirus pandemic was here on February 22, 2020. Click Here to learn more. I don't know why Dr. Fauci could not make his call with all resources he had!
March 8, 2020: Dr. Fauci discouraged people from wearing masks, since there was no evidence to show its helpfulness for the public.
March 17, 2020: Trump complimented Fauci's popularity "he is becoming a major television star for all the right reasons"
March 20, 2020: Fauci downplayed Trump's declaration of the hydroxychloroquine as a "game changer" in the front of President Trump.
March 22, 2020: Fauci said that he could not "jump in front" of President Trump when the president gave misinformation.
March 24, 2020: Fauci disagreed with President Trump's suggestion of states open by April 12.
April 3, 2020: Fauci agreed with CDC's decision on that all need to have masks.
April 5, 2020: Fauci and Trump expressed their differences on hydroxychloroquine.
April 12, 2020: Fauci recognized that lives could have been saved if efforts were taken to stop the spread of COVID-19 on CNN. Trump retweeted supporter's post that Fauci should be fired.
April 13, 2020: At a briefing, Trump maintained that he and Fauci had been on the same page about dealing with coronavirus.
April 23, 2020: Trump didn't agree with Fauci's comments on the US not doing enough testing.
May 1, 2020: The White House blocked Fauci from testifying about coronavirus response before House panel.
May 12, 2020: Fauci appeared before the Senate to testify about stay-at-home restrictions.
May 13, 2020: Trump slammed Fauci for his warnings regarding reopening too quickly.
May 14, 2020: Trump incorrectly claimed that Fauci disagreed with the decision to restrict travel from China.
June 1, 2020: Fauci announced that the task force was no longer holding daily meeting.
June 19, 2020: Trump slammed Fauci for his estimation that a football season might not happen in 2020.
June 27, 2020: Coronavirus task force briefed the public for the first time since April as new coronavirus infections per day in the U.S. soar to an all-time high.
July 1, 2020: Faucid discouraged the public from attending events.
July 6, 2020: Fauci indicated that the U.S.' handle on the coronavirus outbreak is "really not good."
July 7, 2020:Trump disagreed with Fauci's comment on coronavirus and thought we're going to be in very good shape.
July 9, 2020: Trump stated Fauci has "made a lot of mistakes" but calls him a "nice man."
July 10, 2020: Fauci said he had not personally briefed Trump in two months.
July 11, 2020: White House aides released a "lengthy list" of remarks that Fauci made at the beginning of the pandemic to undermine his credibility — including early comments regarding mask-wearing.
July 13, 2020: The New York Times reported Fauci had not had direct contact with Trump in more than five weeks.
July 14, 2020: Fauci told students not to get involved in "political nonsense" and rather "trust respected medical authorities."
July 15, 2020: Trump said I have a very good relationship with Dr. Fauci.
July 21, 2020: Fauci said that he was pleased Trump was seen wearing a mask. 
July 24, 2020: Fauci called Trump's COVID-19 briefings on wearing masks and staying away from crowed places helpful.
July 27, 2020: Trump shareed clips from a video that claimed Fauci had been misleading the public on the use of hydroxychloroquine.
July 28, 2020: Fauci defended himself against the tweets, saying, "I have not been misleading the American public under any circumstances."
July 29, 2020: Trump pondered why Fauci's approval rating was better than his.
July 31, 2020: Fauci testified in Congress with statements contrary to Trump's regarding COVID-19: "I do not believe it would disappear because it's such a highly transmissible virus,"
August 1, 2020: Trump slammed Fauci's testimony in Congress as "wrong!"
August 3, 2020: Fauci defends Dr. Deborah Birx after Trump criticizes and calls her "pathetic." Birx had been warning of a "new phase" in the pandemic.
August 13, 2020: Fauci said he was "not pleased" with how things were going.
September 4, 2020: Fauci said he was "unsure" what Trump means when claiming the country is rounding the corner.
September 11, 2020: Fauci said Trump wanting to downplay the coronavirus was "not a good thing" and that the U.S. can expect no "normality" until 2021.
September 20, 2020:Fauci said he was concerned about misleading information being given to Trump, including from Dr. Scott Atlas.
October 9, 2020: Fauci called the Barrett event a "superspreader": "Well, I think the data speaks for themselves. We had a superspreader event in the White House, and it was in a situation where people were crowded together and were not wearing masks."
October 10, 2020: Trump campaign ran an ad featuring Fauci saying "I can't imagine … that anybody could be doing more." He is referring to the government response, not Trump specifically.
October 12, 2020: Fauci said the ad should be taken down as it missed full context from his statement. He reaffirmed that he planned on staying apolitical.
October 15, 2020: Trump claimed without evidence at a political rally that Fauci was a Democrat, saying, "But he's a nice guy so I keep him around"
October 18, 2020: Fauci said on "60 Minutes" he was "absolutely not" surprised Trump contracted COVID-19 after seeing him surrounded by people not wearing face masks at the Barrett nomination event.
Speaking at a rally this day, Trump mocks Biden for saying he would "listen to the scientists."
October 19, 2020: A day after Fauci's interview, during a conference call with his campaign staff, Trump called Fauci a "disaster" who dropped a "bomb" every time he went on television, but it would be "a bigger bomb if you fire him."
October 22, 2020: During the presidential debate, Trump said he's "not knocking" Fauci before criticizing him on early mask stance.
October 23, 2020: Fauci said Trump had not attended a White House coronavirus task force meeting in "several months"
November 3, 2020: The eve of US presential election. Speaking after midnight following a full day of campaigning, the President was complaining about news media coverage of Covid-19 when the crowd broke out into a "Fire Fauci" chant.
"Don't tell anybody, but let me wait until a little bit after the election," Trump said to cheers.
December 22, 2020: Dr. Fauci received his first dose of the Moderna COVID-19 vaccine.
Trump, just three months before the outbreak, cut off funding for the Emerging Pandemic Threats PREDICT program—a much praised early warning system that had identified hundreds of dangerous Asian pathogens, mostly coronaviruses, poised to jump from animals to humans. If we had this program, it is possible we have much effective system to monitor, control, and prevent COVID-19 from happening in US. From this event alone, I feel deeply sorry for US who elected a leader without any government experience. In this case, the businessman tried to save few million dollars. By the end, the disaster costs US trillion dollars and more than 300,000 lives. This is also an uneventful for Dr. Fauci, who is at a top position of national infectious diseases and made no protest against Trump's decision.
As of today, December 31, 2020, there are 20,216,991 coronavirus cases and 350,778 deaths in the US. Government has the undeniable responsibilities for this outcome. Without the tireless efforts from Dr. Anthony Fauci, Kcancer Hero, the situation may be much worse than this.
In January 2021, Dr. Fauci will become Chief Medical Advisor to the President in the Biden administration.