2018 Farm Bill legalizes the cannabidiol (CBD) and ensures that any cannabinoid derived from hemp are legal, which set the stage for explosive growth and widespread application of CBD.
The interest of general public in the CBD is far exceeding the scientific advancements in the field. Even without proof, CBD is finding a niche as a cure-all.
If you google CBD and any disease conditions, there are millions of articles appeared in your search. The positive testimonials on CBD oil help different disease conditions may make you feel that it is a universal magic pill.
As listed in previous articles, CBD Oil for Cancer Treatment and CBD Oil for Quit Smoking, the CBD Oil is effective for treatment of many diseases. How could CBD oil have such widespread positive outcome on all disease conditions?
CBD's diverse receptors, or cannabinoid receptors, profile explains its application for a wide variety of medical conditions. Cannabinoid receptors are activated endogenously by the body through the endocannabinoid system, which are involved in many physiological processes. Through its modulation of neurotransmitter release, the endocannabinoid system regulates cognition, pain sensation, appetite, memory, sleep, immune function, and mood among many other bodily systems.
Apparently, these scientific evidences support that CBD, which comes from the hemp plant, can be a real relief for numerous ailments such as pain, anxiety, inflammation and even cancer.
CBD oil is extracts from the hemp plant, a close relative to another member of the cannabis family, marijuana. Both plants contain abundant types of cannabinoids, but marijuana is high in the psychoactive chemical tetrahydrocannabinol (THC), while hemp is rich in CBD, which doesn't create a high but may offer a range of medicinal benefits as described above.
So far, there is only one CBD product, Epidiolex, approved by the US Food and Drug Administration. It is officially supported as an effective treatment for two rare forms of epilepsy, Dravet syndrome and Lennox-Gastaut syndrome. But that doesn't stop many true believers from making enthusiastic claims.
Even without solid scientific research to back it up, it is expected that there is a vast array of CBD related products in the coming year, including baked goods, drinks, and massage lotions, besides the very popular CBD oil. It is becoming big business and projected to grow at a compound annual growth rate of more than 100 percent and sales expected to hit $20 billion in the next few years.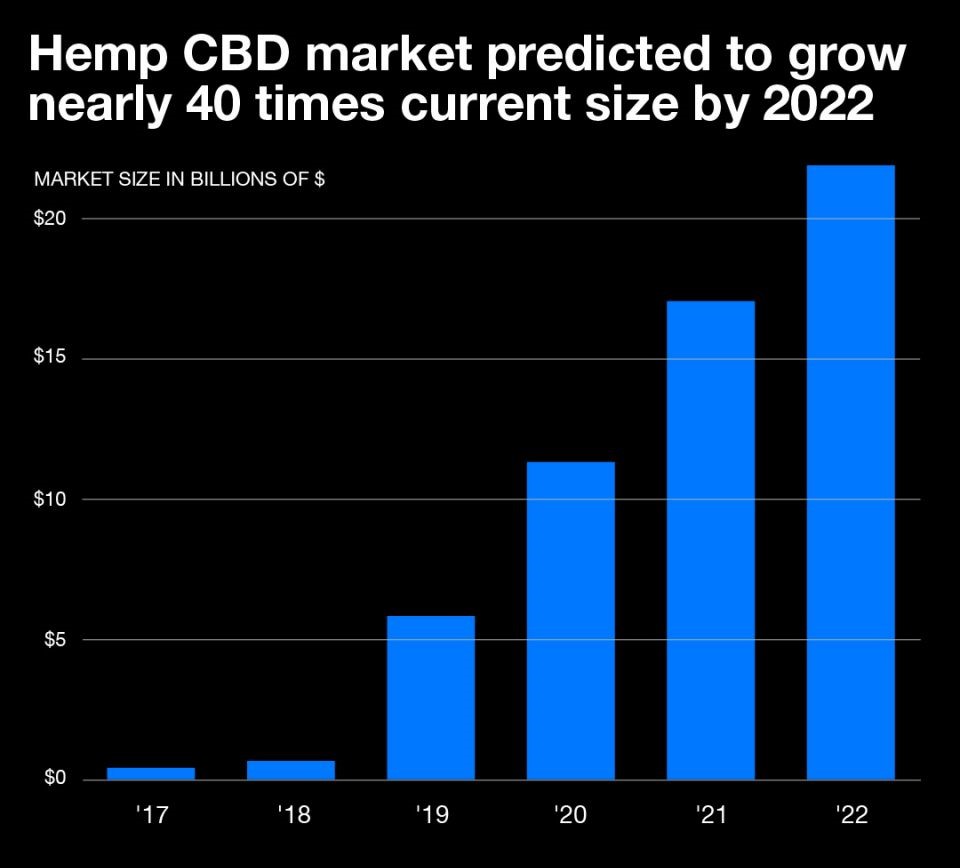 On the other hand, we have a long history of people using snake oil to convince innocent people they're getting something hopeful and useful. We need to prevent dangerous situations where people turn down effective medications to use unproven products, like CBD.
In terms of current standard medicine, there is little information about the medicinal effects of CBD on human body. The main reason is that federal laws on marijuana, which have long been considered as Schedule 1 drugs, defined as having no accepted medical use and a high potential for abuse.
This classification puts any kind of cannabis, including CBD, in the same category as heroin, which means that there is no way even to get any cannabinoids to study in animal model and human being.
Things are now changing dramatically. The 2018 Farm Bill legalize industrial hemp. It is free to obtain CBD and CBD related materials. We are going to witness human data on the consumption of the CBD and accumulate scientific data on what it will work for and what it will not.
Meanwhile, please understand that there is an enormous placebo effect. At the current environment, most people take CBD and come with expectation. With the cycle of the society exciting about it and saying this will cure whatever ails you, it often will.  But the placebo psychologic effects are short-lived and not likely to eliminate the true causes of the illness.
If you're going to take it, you have to understand there is little data and you have to be very careful about the source and you need to talk to your doctor about how it might interact with other drugs you are taking. The CBD is relatively safe and free of side effects. It does appear to interact with other drugs, such as psychological drugs.
The 2018 Farm Bill is likely to make 2019 the year of CBD! It is exciting time to be part of CBD community and business.
Heart and Body Natural (HBN) is a well-established health and wellness company and is committed to providing the highest quality and lowest priced CBD products on the market.
HBN Hemp Farms are fully compliant with the State Department of Agriculture regulations. The CBD is made in USA, completely isolated through CO2 extraction, crystal precipitation, and is of the highest grade, pesticide free, Non-GMO hemp in the world.
If you want to learn more about HBN CBD, please sign up HERE
If you are interested in carry out your own CBD business, CTFO offers you a totally FREE opportunity to become their associate, provides FREE personalized websites, and all the factual information needed to promote their great products. To learn more the potential business, please click HERE.